Spring and Summer hit with a gale force here in Bakersville, in a very positive way. As our farm grows and we build deeper relationships with other farmers, the food coming out of our kitchen just keeps getting better… For this delicious meal, you will need:
1  Bone-in pork loin roast. I recommend Silk Purse Farms in Burnsville, NC.
12 oz mixed mushrooms – I used Pink oyster, dried shiitake, and Lion's Mane.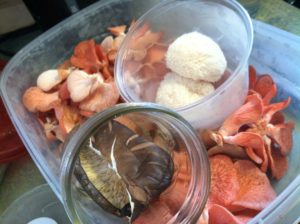 A handful of garlic scapes. Alternatively, scallions or spring onions
1 small Daikon. – we grow these here. You could use another spicy radish variety.
1 tbsp ground ginger
Bragg's Liquid Amino and cracked pepper to taste
Start by searing the loin roast over high heat in a bit of olive oil. You should easily be able to brown 2 of the 3 "sides."
Cover the roast 3/4 with water. While waiting for it to come to a boil,
Add the mushrooms, garlic, and daikon. Season with the ginger and Bragg's and pepper to your liking.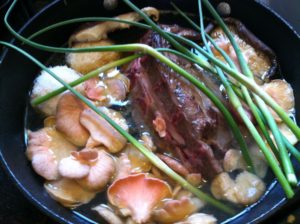 Simmer 3-4 hours over low heat. When done, remove the roast and allow to rest.
Blend the mushrooms and cooking liquid using an immersion blender. Bring to a boil.
Reduce the gravy by at least half. Use corn starch mixed with water for additional thickening as desired.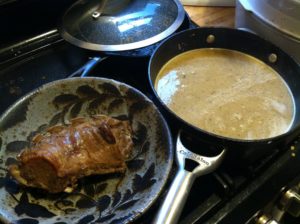 Once the gravy is ready, slice the roast, removing the bones, and serve with generous portions of said gravy. Enjoy!