June 11th, 2022    10AM – 5PM           $165/person (includes farm-to-table lunch)
Roan Shadow Apothecary @ Mayland Mushrooms        Bakersville, NC 28705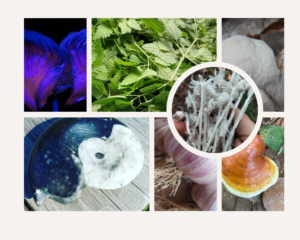 This is an intermediate level course for those interested in learning to make alchemical spagyric tinctures. We will be working with the Spagyric process and learn how to make plant and mushroom extracts following those methods.  Many of the alchemical texts available describe high-level processes and desired goals; this course will provide hands-on techniques using materials available to the home alchemist, and we will also tie the alchemical terminology to working concepts and practices. We will also cover day/planetary alignments, as pertain to plants and processes. We will also cover some of the terminology and symbology itself, with a focus on spagyric tinctures.
While making high-quality spagyric tinctures ultimately requires a high degree of skill and a lot of working knowledge, the best way to achieve this is to start working in your own laboratory. This course will help you gain a foundation for your practice and future work, and introduce to you hands-on techniques you can use or modify as you progress.
Prerequisites:  This course requires some working knowledge of herbal medicine and tincture making. We will not be covering the basics in this course. Some experience extracting plants with ethanol and creating consumable medicines is required. It will also be helpful to have some knowledge of basic alchemical concepts. The Idiot's Guide to Alchemy by Dennis Hauck is an excellent primer, as is Real Alchemy by Robert Alan Bartlett.
All materials for the course will be provided. There will be ample Q&A opportunities. Limited to 7 participants.
Please let us know as soon as possible if you have any dietary restrictions so we can ensure you get a great lunch!
You can Contact Us with any questions or Sign Up For This Course. We accept Credit/Debit cards, CashApp, PayPal, or Venmo.